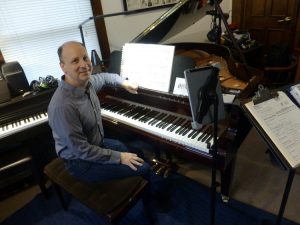 Why choose virtual piano lessons? 
Because they are effective, convenient, and fun. 
An Engaging Experience 
Whether you choose in-person/hybrid or virtual piano lessons, you are going to get an amazing experience with experienced teachers who care, get a mixture of many styles of music, learn to compose their own music and songs, and get to share their music online in many ways. Read on to learn how we tailor our lessons for the virtual student.
A Short History of Our Studio's Virtual Piano Lessons
Our studio had already instituted a virtual lesson program two years prior to the covid pandemic. It was already seen as a benefit for students to not miss a lesson because they were not feeling well, and for snow days, and provided continuity of their lessons. These students had no absences for the year, and got the full experience of our piano program. 
With the flip of a switch, our entire studio switched to virtual lessons in March of 2020, and not a single lesson was missed because of the pandemic. 
When our studio offered hybrid lessons in the fall of 2020, as a testament to how well the virtual lessons worked, 92% of our students chose to stay 100% virtual. Why? Virtual piano lessons are effective and convenient.
Virtual Piano Lessons are Effective:
There is just about nothing we can't do virtually that we can do in person for piano. Virtual piano lessons are extremely effective. Even the special recording aspect of this studio was preserved by families recording at home with voice memo apps.
With the use of FaceTime, Skype, or Zoom, teachers and students can see and hear everything as if we were right in the room together. At this point, FaceTime seems to be superior for better quality audio, but Skype and Zoom are ok too. It has to do with what your device and app thinks is background noise and if it thinks the piano is that background noise.
One-on-one virtual piano lessons are a dramatically different experience than a "school zoom classroom" with lots of little boxes of people. In school virtual classrooms, students are continually on mute, but in the lesson, the student is never muted, and the teacher and student are always talking directly to each other.

 

Students ask questions whenever they think of them, and teachers answer immediately. No need to raise your virtual hand.
This studio is organized. With the use of a simple binder, tabs, and a hole-punch, students know exactly what to do when practicing during the week after the lesson. During each lesson, the teacher here writes out a Practice Plan for the week, with specific instructions on what to accomplish during the week (not too little or too much!). The teacher emails home the practice plan, and a parent simply prints out the practice plan, three-hole punches it, and puts the Practice Plan directly in the student's binder later that day. This is a critical part of the student's experience so the student doesn't forget what to do during the week. Parental support is key for younger students.
Aspects such as finding new music are done very effectively with the use of YouTube links, sharing mp3s and PDFs with Google Drive or iCloud, and the incredible resource of the studio's website with thousands of tracks our students have recorded over the past 25+ years.

 

Students get their own page on the studio's website with their music they record at home, including their own pieces and original songs, whether in-person or virtual. Students can share the music they create at home on our studio's website with family and friends. Students record themselves at home using a simple voice memo app on their device and email the file to the studio.

 

Our studio has a great online community, including on Facebook, Instagram, YouTube, and Flickr. Music is meant to be shared!
Virtual Piano Lessons are Convenient:
Zero covid protocols necessary when your lesson is at home (masks, hand washing, wiping down keys, etc), which means more lesson time.
No need for open windows when its very cold or hot out.
Much fewer absences – have your lesson at home if you are slightly sick but well enough for a lesson.
No driving in bad weather, like snow, ice, rain.
Great communication – parents can hop in the video for quick updates to and from the teacher.
Just show up (pajamas are ok)!
Most music books needed are available online at resources such as Amazon.com, MusicNotes.com, and SheetMusicPlus.com. Most of the time, students can get their music immediately or with next day shipping.

 
Recommended Products Used in our Virtual Piano Lesson Program
A floor mount tripod. Floor mount tripods with a tablet let us teachers see as if we are standing right next to the student. We see from a higher angle all the keys and know exactly what is going on as if we were in the room.

 

Some other benefits of the tripod are: 1. Your device is more secure and the student is less likely to drop and break it (like if you had your device propped up on some books on a table) 2. The teachers can pick up the tripod at the studio and hold it over their hands so the students can see the teacher's hands very well.

 

The tablet. A tablet, such as an iPad, is superior to a phone for the larger screen for the student to see the teachers. Phones can work, but tablets are better.

 

A printer (and ink). Printing a Practice Plan is by far better than trying to search for it digitally in an email and on a small tiny screen like a phone. Students invariably will miss something even if they did remember to look at the Practice Plan on a small screen.

 

Students having their own email address. While parents's email is effective too, if a student has their own email address, it doesn't have the parent as a "middleman" and students get whatever they need directly (sheet music, practice plan, mp3s, etc).
To reserve your time now, call (908) 232-3310 or email Info@NazzaroMusic.com. Space is limited.